"Green"

products for your environment-friendly projects

DVC manufactures concrete that meets the LEED (Leadership in Energy and Environmental Design) specifications of the U.S. Green Building Council. With special mixes and delivery practices, we minimize environmental impact.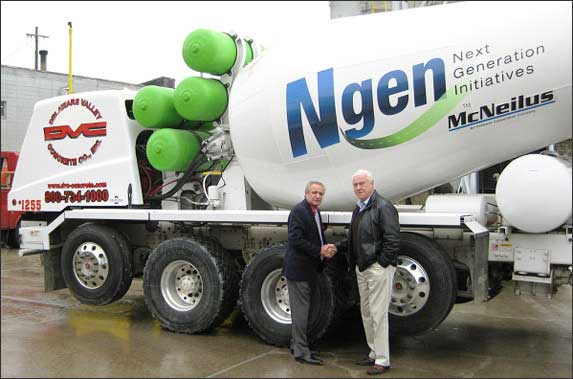 Pat Healy, Sales Manager for Oshkosh Trucks shakes hands with Mario C. Diliberto, President of Delaware Valley Concrete Co. on negotiations to purchase CNG powered mixers to add to its fleet.
As both a local and national environmental trend, natural gas has significant environmental benefits versus diesel including quieter operation, including an 80 to 90 percent lower decibel level than comparable diesel trucks; a reduction in carbon monoxide up to 80 percent; and a reduction in nitrogen oxide up to 85 percent.
Given the growing concerns regarding global warming and the volatile nature of today's fuel prices, Delaware Valley Concrete is of the opinion that it's more important than ever that we look to sustainable and environmentally friendly energy alternatives – especially for industries that consume large amounts of fuel in their operations.