Slipform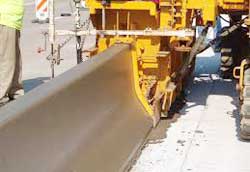 Slipform curbs have distinct advantages over traditional pre-cast concrete and bituminous curb products.
Save time with slipfoms, one slipform crew can install hundreds or even thousands of feet of concrete curb in a single day.
Slipforms are more economical. The installation rate allows for substantial cost-savings over traditional pre-cast concrete alternatives.
A Smaller Footprint: Saves job site lay down space.
Higher Quality-Greater Flexibility: Concrete is poured directly on subgrade allowing quicker access for incidental landscaping before paving.
Durability: Because of Slipform's unique casting and installation techniques, your product will last longer than bituminous curbs and pre-cast units.
Shotcrete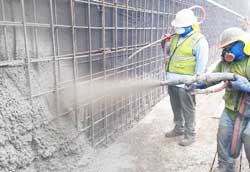 Shotcrete, or sprayed concrete, is concrete or mortar conveyed through a hose and pneumatically projected at high velocity onto a surface, as a construction technique. It is typically reinforced by conventional steel rods, steel mesh, or fibers.
Shotcrete is usually an all-inclusive term for both the wet-mix and dry-mix versions. In pool construction, however, shotcrete refers to wet mix and gunite to dry mix. In this context, these terms are not interchangeable.
Shotcrete is placed and compacted at the same time, due to the force with the nozzle. It can be sprayed onto any type or shape of surface, including vertical or overhead areas.
Pool Mix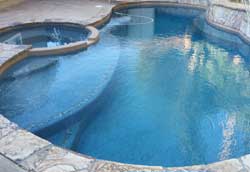 Commonly called "pool plaster", this is a very dense plaster mortar used for interior finishes of concrete swimming pools. Typically made with 2 parts fine white silica sand with one part federal white cement powder (or 1 part fine sand and one part plaster / extra fine white sand). This mix is then typically modified with a latex acrylic or more often bonding glue.