An Environmentally & Economically Sound Choice!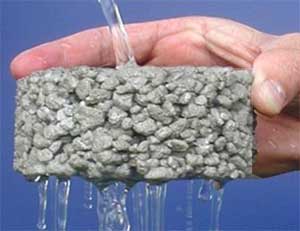 Pervious concrete is a unique and effective means to address important environmental issues and helps to fulfill requirements in the LEED Building Rating Program. By capturing stormwater and allow- ing it to seep directly into the ground, pervious concrete is instrumental in recharging groundwater and reducing stormwater runoff. Plus, pervious is listed in the Department of Environmental Protection (DEP) Best Management Practice manual.
Property owners can reduce fees and enhance their bottom line by using pervious concrete, which reduces the amount of labor, construction, and maintenance by eliminating the need for retention ponds, skimmers, pumps, drainage pipes, and other costly stormwater management systems.
PACA has been promoting the benefits of pervious concrete to design professionals across the state of Pennsylvania. One of the most frequent questions we get is, "Are there qualified installers for this product?"
Delaware Valley Concrete has made a commitment to train the industry on the installation of pervious concrete by conducting the NRMCA's Pervious Concrete Contractor Certification Course. Visit
NRMCA for more certification information
Pervious Concrete interview with Athens/Clark County's Travis Newsome about the County's use of pervious concrete.