Concrete provides benefits to commercial and housing construction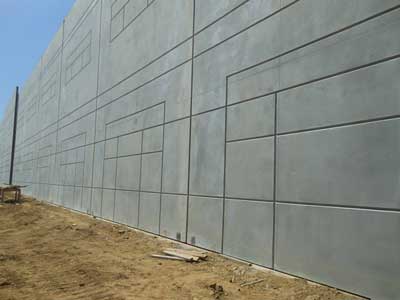 Concrete provides the foundation, floors and walls of many commercial and residential buildings. Self-compacting concrete improves strength and durability, while reducing energy use due to its ability to minimize temperature fluctuations in buildings over the course of the day. It also provides a natural noise barrier.
Delaware Valley Concrete provides concrete for both Commercial and Residential projects.
We are proud of our production facility, which is one of the most modern in the industry. We offer our customers both central-mix and transit-mix. Our central-mix plant is capable of producing 100 yards an hour. We can deliver over 1,000 yards in a working day, if required. Every batch is computer blended and recorded.
Our central dispatch unit maintains contact with our drivers by radio as well as GPS tracking to insure immediate response to our customers and guarantee uninterrupted service. From our plants in (list locations here), we cover the (list region here). Do-It-Yourselfers can rely on Delaware Valley Concrete to provide the proper mix in the precise quantities to get your job done right. Our telephone operators will be happy to recommend the proper concrete mix and batch size for you. We can even arrange for special equipment to get into those hard to reach areas you may have.
Click here to see completed projects.
Our concrete products are made in precise accordance with industry specifications.
Residential
Commercially designed specification mix.
Specialty mixes: Slip form curb mix, colored, shotcrete, pool mix, block fill.
Pervious Concrete. Allowing surface water to seep into the ground. Porous concrete is instrumental in recharging groundwater,
Flowable Fill. Advancements with flowable fill mixtures have led to numerous applications including bedding and backfill for utility trenches, paving subbase, bridge abutment and retaining wall backfills.
Value Added Products: fiber reinforcement, Steel fiber, superplasticizer, silica fume,corrosion inhibitor, accelerator, retarder
High Strength Concrete. Compressive strengths up to 10,000 psi, Our gypsum cement underlayments offer you a broad product selection for your project.
Lightweight Concrete. Lightweight coarse aggregate typically with expanded shale, clay or slate materials. Mixture with a porous structure.