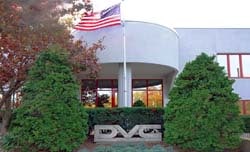 Charles W. Diliberto and his wife, Frances, founded Delaware Valley Concrete Co., Inc., a Pennsylvania Corporation, in 1955. They began the operation from their current address in Hatboro, PA. From its humble beginning; working with limited facilities and equipment, Mr. Diliberto built a financially sound company. With his eye on the future, he promoted his son, Mario Diliberto to Vice President.
Together, they expanded the original Hatboro Concrete Plant into a modern central mix facility and built new and larger administrative offices. In the mid-1980's, DVC acquired its own aggregate source along the Delaware River.
The mid 80's also showed a growing pattern for DVC and provided the founder, Mr. Diliberto, (affectionately known to his employees as "Charlie"), an opportunity to enjoy a healthy retirement in the south while having his son Mario succeed him to the Presidency.
The late 80's, 90's, 2003 and 2006 saw further expansion with the acquisition of New Britain, Conshohocken, Kennett Square, Coatesville and Malvern plants. This provided DVC with nine operating concrete plants and afforded DVC an opportunity to secure its portion of a growing competitive market.
Company History
| | |
| --- | --- |
| 1955 | Delaware Valley Concrete Co., Inc. established. |
| 1958 | Built a second plant to its existing facility. |
| 1983 | Major renovation to its existing plant, converting it to a wet mix plant. |
| 1985 | Expanded by purchasing its first satellite plant in New Britain, PA. |
| 1987 | Purchased a mining facility with a second satellite ready-mix plant in Upper Black Eddy, PA. |
| 1988 | Purchased a third satellite plant in Conshohocken, PA. |
| 1995 | Built a fourth satellite plant in Ottsville, PA. |
| 1997 | Purchased a fifth satellite plant in Coatesville, PA, (Pomeroy) with the addition of eleven new trucks. |
| 2003 | Purchased a sixth satellite plant in Kennett Square, PA with the addition of 10 trucks. |
| 2006 | Built another satellite plant in Malvern, PA. |
| 2012 | Purchased 3 satellite plants in Elizabethtown, Gap, and West Point, PA. |